Celebrate Your Big Day at Long Island's Top 5 Winery Wedding Venues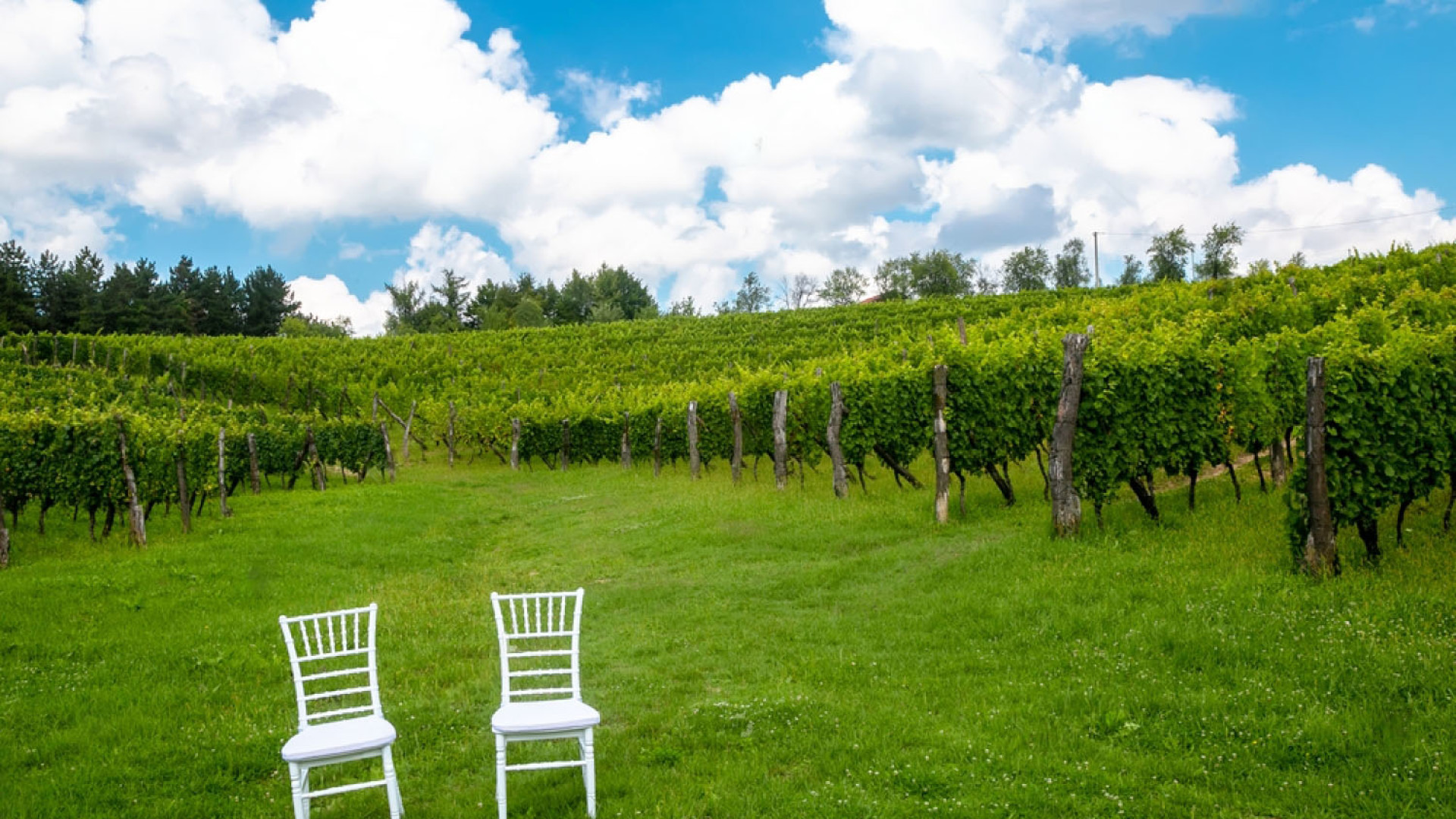 RGNY Winery Wedding Venue
Amidst the vineyards and picturesque landscapes, you'll find the perfect backdrop for your dream wedding. From delectable cuisine to exceptional wines, every moment at RGNY Winery is designed to make your special day truly unforgettable. Come and experience the magic that awaits you at RGNY Winery, where cherished memories are made and love blossoms amidst the beauty of North Fork.
Location and Scenic Beauty
RGNY Winery is set amidst sprawling vineyards, offering breathtaking views of the North Fork's iconic landscapes. The allure of the vineyard's beauty serves as the perfect backdrop for your special day, creating an atmosphere that feels both intimate and grand.
As you walk through the vineyards, you'll be captivated by the natural beauty that surrounds you, providing a serene and romantic ambiance that sets the stage for your wedding celebration.
The Tasting Room Terrace at RGNY Winery is the centerpiece of this captivating venue. This versatile event space serves as an enchanting setting for weddings of various sizes and styles. Whether you prefer an intimate gathering or a grand affair, the terrace can be tailored to your unique vision.
With its open-air concept and elegant design, the Tasting Room Terrace offers flexibility for both ceremony and reception, allowing for a seamless flow between the two. It provides ample space for dining, dancing, and making memories that will be cherished forever.
At RGNY Winery, couples have the luxury of choosing between two equally enchanting ceremony locations. For those who desire an outdoor celebration, exchanging vows amidst the vineyards creates a romantic and picturesque experience.
In case of inclement weather or for couples who prefer an indoor setting, the rustic and elegant tasting room offers an intimate alternative. The warm ambiance of the room, combined with rustic elements and wine barrels, adds a touch of sophistication to your indoor ceremony.
One of the hallmarks of RGNY Winery is its captivating blend of rustic charm and refined elegance. The venue seamlessly combines natural elements like wooden barrels and vineyard landscapes with the sophistication of the Tasting Room Terrace.
This harmonious fusion creates an enchanting atmosphere that perfectly complements your wedding vision, making RGNY Winery a truly unique and dreamy destination for your special day.
RGNY Winery stands as a testament to the harmonious union of love and wine, offering couples a remarkable wedding destination in the heart of the North Fork wine region. With its breathtaking scenery, versatile event spaces, exceptional wines, and personalized service, RGNY Winery promises a wedding experience that is both enchanting and unforgettable.
The Vineyards at Aquebogue
Nestled in the heart of Aquebogue, New York, The Vineyards at Aquebogue is a delightful banquet hall and winery wedding venue. Gracing the picturesque North Fork of Long Island, this charming space embraces lush surroundings and thoughtfully crafted interiors. Imagine exchanging vows in the midst of a flourishing wine country, where sophistication and charm converge, creating an unforgettable setting for your special celebration.
At the heart of The Vineyards at Aquebogue lies the Grand Pavilion, an exquisite event space designed to host weddings and celebrations of all sizes. The pavilion boasts an elegant and contemporary design, providing a versatile canvas to bring your dream wedding to life.
Whether you envision an intimate gathering or a grand celebration, the pavilion can be tailored to suit your needs. With its open-air concept and ample space, it allows for seamless transitions between ceremonies and receptions, making it a practical and stunning choice for your big day.
The Vineyards at Aquebogue offers couples the freedom to choose between two equally enchanting ceremony locations. For nature enthusiasts and those seeking an outdoor ambiance, the vineyard ceremonies amidst the rows of grapevines are a romantic and picturesque choice. The natural beauty of the vineyard becomes an integral part of your love story as you say your vows under the open sky.
Alternatively, the Grand Pavilion can serve as an indoor ceremony venue. Whichever option you choose, your ceremony will be filled with love and surrounded by the captivating beauty of the vineyards.
As a renowned vineyard wedding venue, The Vineyards at Aquebogue boasts an impressive selection of award-winning wines. To kick off your wedding celebrations, the venue offers wine tastings, allowing you and your guests to savor the vineyard's finest selections.
From crisp whites to velvety reds, their wines have been meticulously crafted to ensure an exceptional drinking experience. Toast to your love with a glass of their finest wine, celebrating the start of your journey together in style.
Embracing Romance and Nature
The Vineyards at Aquebogue sets the stage for an enchanting and romantic wedding experience. The breathtaking vineyard backdrop, coupled with the contemporary elegance of the Grand Pavilion, creates an atmosphere that ignites love and creates cherished memories.
As you exchange vows amidst the vineyard's beauty, you'll be enveloped by a sense of magic and serenity, making your wedding a truly unique and heartfelt celebration of love.
With its captivating beauty, elegant pavilion, exceptional culinary offerings, and dedicated event coordination, this venue promises to create cherished memories that will last a lifetime.
Kontokosta Winery Wedding Venue

Discover the enchanting charm of Kontokosta Winery, a magical event venue nestled on Long Island, offering unparalleled views of the Long Island Sound. This picturesque place provides an idyllic setting for a dreamy Long Island winery wedding. With its stunning waterfront location, it is also the ideal destination for an extraordinary corporate retreat or a memorable special event. Let Kontokosta Winery be the backdrop to your New York vineyard wedding, and turn your wedding dreams into a beautiful reality.
The Perfect Waterfront Location for Your Special Day
Picture this: saying your vows with the shimmering Long Island Sound as your witness. Kontokosta Winery's waterfront location offers a unique and romantic setting for your wedding ceremony. The gentle lapping of waves and the breathtaking sunset create an unforgettable atmosphere that will be etched in your memories forever.
A Charming Blend of Nature and Elegance
Kontokosta Winery effortlessly combines the rustic charm of vineyards with modern elegance. The lush greenery of the surrounding vineyards provides a captivating backdrop for your celebration. Inside, the venue's refined décor, soft lighting, and spacious layout create an atmosphere of sophistication and grace, ensuring your wedding is an event to remember.
Captivating Wedding Spaces
Kontokosta Winery boasts versatile wedding spaces designed to accommodate your unique vision. Choose from outdoor ceremonies amidst the vineyards or the scenic waterfront, or opt for an indoor reception in the chic event hall. Whatever your preference, the winery's flexible spaces can be tailored to suit your needs, making your dream wedding a reality.
A Culinary Experience Like No Other
Indulge in a culinary journey curated by renowned chefs who pride themselves on creating exquisite dishes. Kontokosta Winery's wedding menu showcases a delightful fusion of local and seasonal ingredients, elevating your celebration with every savory bite and delectable sip.
Kontokosta Winery stands as a testament to the magic of love and the beauty of nature. This Long Island gem is the perfect destination to celebrate your wedding, create cherished memories, and embark on a new journey together. From its captivating waterfront location to its exquisite wines and culinary delights, Kontokosta Winery promises an extraordinary experience for you and your guests.
Meadowlark North Fork Winery
Meadowlark North Fork stands as a fresh and innovative winery event destination situated on the serene North Fork of Long Island. Born from Macari Vineyards' dedication to honoring life's joys and cultivating a sustainable future inspired by the area's rustic heritage, Meadowlark offers a unique and enchanting experience for all who visit.
The Meadowlark North Fork Winery boasts a location that sets it apart from other wedding venues. Situated in the heart of the renowned North Fork wine region, this idyllic estate is surrounded by rolling vineyards, creating a stunning backdrop for your special day. The charm of the location adds to the allure of this winery as a premier wedding destination.
The centerpiece of Meadowlark North Fork Winery is its beautifully designed rustic barn. As you step inside, you'll be captivated by the rustic elegance it exudes. With its high ceilings, exposed wooden beams, and delicate twinkle lights, the barn casts a magical ambiance, perfect for a romantic wedding.
Whether you're planning an intimate celebration or inviting a large gathering of friends and family, the barn can be tailored to suit your needs. Its versatility allows for seamless transformations between ceremony and reception spaces, making it an ideal setting for your entire wedding day.
At Meadowlark North Fork Winery, you have the luxury of choice when it comes to your ceremony. Imagine walking down the aisle amidst rows of lush grapevines, exchanging your vows under the clear blue sky with the sweet aroma of grapes in the air. The vineyard ceremony provides a truly enchanting and unique experience for you and your guests.
Meadowlark North Fork Winery embraces the natural beauty of its surroundings, infusing every moment with rustic elegance and enchantment. The picturesque vineyards, charming barn, and scenic landscapes come together to create a dreamy atmosphere that celebrates the essence of love.
It's not just a wedding venue; it's a place where dreams are woven into reality, where love and commitment are celebrated amidst the beauty of nature. Every element of the winery adds to the romance, making it a place where love stories are immortalized.
Baiting Hollow Farm Vineyard Wedding Venue
Welcome to the enchanting world of Baiting Hollow Farm Vineyard, a picturesque wedding venue that epitomizes rustic charm and natural beauty. Nestled in the heart of Long Island's wine country, this idyllic setting offers couples the perfect backdrop for their dream wedding. From romantic ceremonies amidst vineyard landscapes to elegant receptions in rustic barns, Baiting Hollow Farm Vineyard promises an unforgettable experience for couples and their guests.
Baiting Hollow Farm Vineyard boasts a serene location that transports guests into a world of tranquility and romance. Surrounded by lush vineyards and rolling landscapes, the venue exudes a captivating ambiance, making it an ideal place to celebrate love and commitment. The natural beauty of the vineyards provides a dreamy setting for couples seeking a unique and picturesque wedding location.
Charming Barn and Terrace
The centerpiece of Baiting Hollow Farm Vineyard is its charming barn, which exudes rustic elegance. The barn's high ceilings, wooden beams, and twinkle lights create an enchanting atmosphere, perfect for both intimate gatherings and grand celebrations. Whether it's an indoor ceremony or a reception, the barn offers a versatile space that can be personalized to suit any wedding style.
Adjacent to the barn is the lovely terrace, where guests can enjoy breathtaking views of the vineyards while savoring fine wines from the estate.
Tailored Wedding Packages
At Baiting Hollow Farm Vineyard, the dedicated team understands that every couple's vision is unique. They offer tailored wedding packages that cater to individual preferences, ensuring that each detail of the special day reflects the couple's love story. From customized menus to personalized decor, the venue's flexibility ensures that every wedding at Baiting Hollow Farm Vineyard is distinctive and memorable.
Baiting Hollow Farm Vineyard provides couples with more than just a venue; it offers an unforgettable experience that will be treasured for a lifetime. From the moment the bride walks down the aisle to the last dance under the stars, every moment at this vineyard wedding venue is filled with magic, love, and joy.
For couples seeking a rustic and romantic wedding surrounded by the beauty of nature, Baiting Hollow Farm Vineyard is the perfect choice. With its serene location, charming barn and terrace, award-winning wines, and tailored wedding packages, this venue offers a truly unforgettable experience.