Experience the Charm of Long Island: Unique Vineyard Wedding Venues for Your Special Day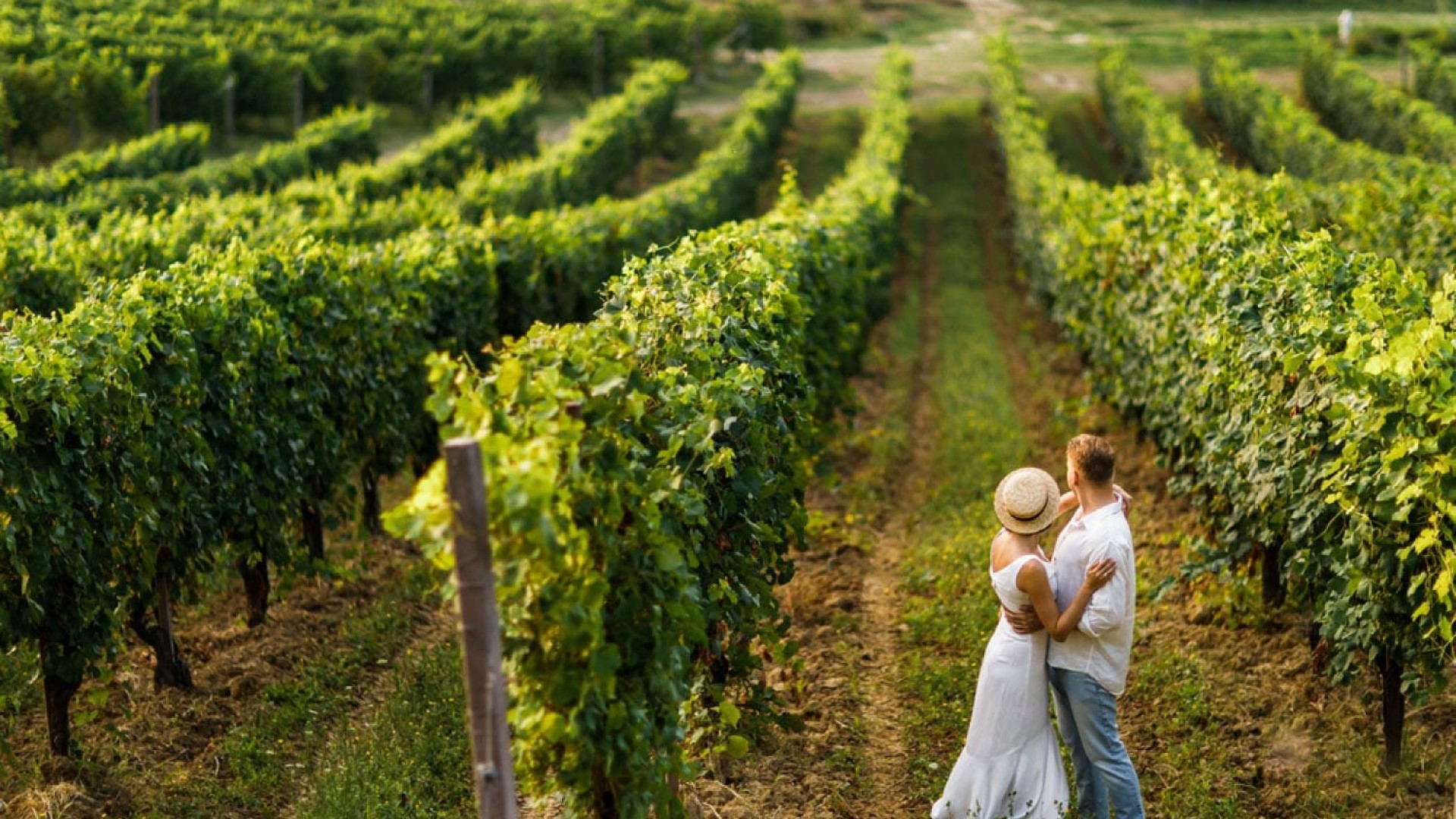 If you dream of a romantic and picturesque wedding, Long Island's vineyard wedding venues offer the perfect setting for your special day. Surrounded by vineyards, stunning landscapes, and elegant facilities, these top five wineries are sure to create unforgettable memories for you and your guests.
As you embark on the journey to plan your dream Long Island wedding, we hope this guide will streamline your search and heighten your anticipation for one of the most significant days of your life.
Unforgettable Moments: Your Dream Wedding at Bedell Cellars
Bedell Cellars is a one-of-a-kind wedding venue in the charming hamlet of Cutchogue, within Suffolk County, New York. This enchanting vineyard, which has been in the ownership and operation of a loving family, opened its doors nearly four decades ago in 1980, establishing itself on the scenic North Fork of Long Island.
At Bedell Cellars, you will discover exquisite winery wedding venues that will make your special day truly unforgettable. Situated in the picturesque Cutchogue area of Long Island's wine country, Bedell Cellars offers a charming and enchanting backdrop for your wedding celebration.
Say your vows surrounded by the beauty of the vineyards. The lush grapevines and serene landscapes create a romantic and intimate atmosphere, perfect for exchanging your heartfelt promises with your loved ones as witnesses.
After the ceremony, continue the festivities with an outdoor reception amidst the breathtaking views of the vineyard. Enjoy the fresh air and natural beauty while celebrating your union with family and friends.
For those seeking an indoor setting with rustic elegance, the restored barn at Bedell Cellars provides a charming and cozy space. The barn's vintage character and warm ambiance create a unique and intimate atmosphere for your reception.
Treat your guests to a delightful wine-tasting experience featuring Bedell Cellars' premium wines. Let them savor the rich flavors and distinct aromas that have made this winery renowned in the region.
The dedicated and experienced staff at Bedell Cellars is committed to ensuring that your wedding day is flawless and stress-free. They will work closely with you to create a personalized and memorable experience that reflects your vision and style.
With its stunning outdoor spaces, picturesque vineyards, and elegant indoor options, Bedell Cellars offers a variety of winery wedding venues to suit your preferences. Whether you dream of an intimate ceremony among the vines or a charming reception in the restored barn, your wedding at Bedell Cellars will be an enchanting and joyous celebration of love.
Romance in the Vineyards: Your Raphael

Vineyard & Winery

Wedding
Welcome to Raphael Vineyard & Winery, located in Peconic. Founded in 1996, Raphael stands as Long Island's top winery estate, proudly owned and operated by the Petrocelli family. Drawing inspiration from the timeless architecture of Italian monasteries, the winery exudes an Old World charm, boasting traditional craftsmanship and a meticulous focus on every detail.
This vineyard offers an enchanting and elegant atmosphere for weddings.
The Vineyard Romance: Exchange Vows Amidst Nature's Splendor
Embrace the natural beauty of the vineyards as you exchange your vows under a stunning canopy of grapevines. The vineyard venue at Raphael offers a picturesque backdrop, creating an ambiance of romance and serenity that will leave your guests in awe.
Elegance in Every Detail: The Grand Banquet Hall
Step into a world of elegance in the grand banquet hall, where every detail has been carefully crafted to create a magical atmosphere. With its high ceilings, sparkling chandeliers, and ample space, the banquet hall sets the stage for a sophisticated and opulent wedding celebration.
Intimate Garden Soiree: The Enchanting Gardens
For couples seeking an intimate and enchanting outdoor celebration, the gardens at Raphael Winery are the perfect choice. Surrounded by blooming flowers and lush greenery, the garden venue offers a fairytale-like setting, ideal for a whimsical and romantic affair.
Rustic Charm: The Barn Retreat
Experience rustic charm at its finest with the Barn Retreat venue. Characterized by exposed wooden beams and a warm, cozy ambiance, this venue is perfect for couples looking to infuse their wedding with a touch of countryside allure.
The Barrel Room: Where Wine and Love Unite
Celebrate your union in the heart of the Barrel Room. Surrounded by aging barrels and the sweet aroma of wine, this unique venue offers a one-of-a-kind experience that celebrates the love between you and your partner.
If you're searching for a dream wedding venue that blends natural beauty, elegant charm, and exceptional services, look no further than Raphael Vineyard & Winery. From intimate garden soirees to grand banquet hall celebrations, each venue is designed to create unforgettable memories on your special day.
Love Blossoms at Wolffer Estate Vineyard
Established in 1988 by Christian Wölffer, a native of Hamburg, Wölffer Estate Vineyard stands as an American winery with a captivating European essence.
A Wolffer Estate Vineyard wedding offers a truly enchanting and romantic experience, surrounded by the breathtaking beauty of the vineyards. At Wolffer Estate Vineyard, love finds its perfect backdrop amidst 55 acres of sprawling vineyards in the heart of the Hamptons.
Wolffer Estate Vineyard Overview
The vineyard's rich history and picturesque landscapes provide an enchanting setting that evokes a sense of timelessness, making it a dream location for exchanging vows.
But that's not all that makes this vineyard renowned; it is also celebrated for its unparalleled beauty, distinctive style, and romantic atmosphere. Together, these elements create the ideal setting for a dreamy wedding at Wolffer Estate Vineyard.
Furthermore, if you're looking for picture-perfect wedding photos, a Wolffer Estate wedding is an excellent choice, thanks to its breathtaking backdrop. This vineyard wedding destination in the state is in high demand and sought after by many.
The Wolffer Estate wedding team is dedicated to making your special day perfect, handling all the planning, and providing personalized service. So, relax and enjoy your big day while they take care of everything! You have the option to select a custom-designed package that ensures your wedding is tailored to your dreams. The venue can accommodate around 175 people as guests. However, if you're considering a Wolffer Estate wedding, make sure your guest list includes at least 75 guests, as that's the minimum required.
A Wolffer Estate Vineyard promises an unforgettable celebration, surrounded by the natural beauty of the vineyards and infused with personalized touches that make your day truly special.
A Magical Celebration at Martha Clara Vineyards
Martha Clara Vineyards, located on the picturesque North Fork of Long Island, New York, offers a romantic and dreamy setting for weddings of all sizes. This captivating wedding venue offers couples a dreamlike setting amidst sprawling vineyards. From intimate gatherings to grand affairs, Martha Clara Vineyards provides the perfect backdrop to unite couples' dreams with the serene beauty of the vineyards.
As you approach the estate, the sight of rolling vineyards, lush greenery, and a rustic yet elegant atmosphere welcomes you and your guests.
Imagine saying "I do" amidst the lush greenery of the vineyards, with the soft fragrance of grapes in the air. The Martha Clara Vineyards offers couples the opportunity to exchange vows outdoors, creating an intimate and magical ceremony. Surrounded by the beauty of the vineyards, the couple can embrace the joy of togetherness while their loved ones witness the heartfelt moment.
After the ceremony, The Martha Clara Vineyards provides a selection of charming and rustic barns for elegant receptions. The Big Barn, with its high ceilings, exposed wooden beams, and vintage charm, offers a delightful space for dining and dancing under the stars. The rustic ambiance and warm atmosphere create an unforgettable experience for both the couple and their guests.
As a renowned vineyard, The Martha Clara Vineyards takes pride in its exceptional wines. Couples and their guests can savor wine tastings, experiencing a variety of exquisite selections crafted with dedication and expertise. The vineyard's award-winning wines add a touch of sophistication and delight to the wedding celebration, elevating the experience to new heights.
The Martha Clara Vineyards offers more than just a venue; it provides couples with a timeless celebration that embraces the charm of the vineyards and the art of winemaking. Every aspect of the wedding journey is infused with elegance and romance, from the vineyard ceremony to the rustic barn reception.
Celebrate amidst the beauty of nature and the excellence of winemaking at The Martha Clara Vineyards, where love and timeless memories intertwine in a celebration of eternal love.
Say 'I Do' at Sparkling Pointe Vineyards and Winery Wedding Venue
Sparkling Pointe Vineyards and Winery Located in the North Fork of Long Island, stands as a testament to Cynthia and Tom Rosicki's unwavering commitment to crafting exceptional sparkling wines using only estate-grown grapes.
Sparkling Pointe

Vineyards and

Winery Overview
Prepare to have your dream wedding come true at Sparkling Pointe Vineyards and Winery, a stunning architectural masterpiece reminiscent of an elegant French Country Manor. This enchanting venue offers a magical setting with its Venetian crystal chandeliers and breathtaking views of the surrounding vineyards.
For those seeking an intimate and exclusive experience, the esteemed Bubble Room awaits. This private haven promises to elevate your special day to new heights, providing an intimate space for you and your guests to create unforgettable memories.
Sparkling Pointe offers a range of wedding packages, each crafted to suit your unique preferences and desires. From intimate gatherings in the charming Bubble Room to grand celebrations in the picturesque vineyards, there's a package perfectly tailored for your dream wedding.
With its charm, sophistication, and natural beauty, Sparkling Pointe Vineyards and Winery is the perfect backdrop for your wedding celebration, where love, laughter, and the finest sparkling wines unite to create an experience that will be cherished for a lifetime