Top 5 Hamptons Wineries for Hosting Your Dream Wedding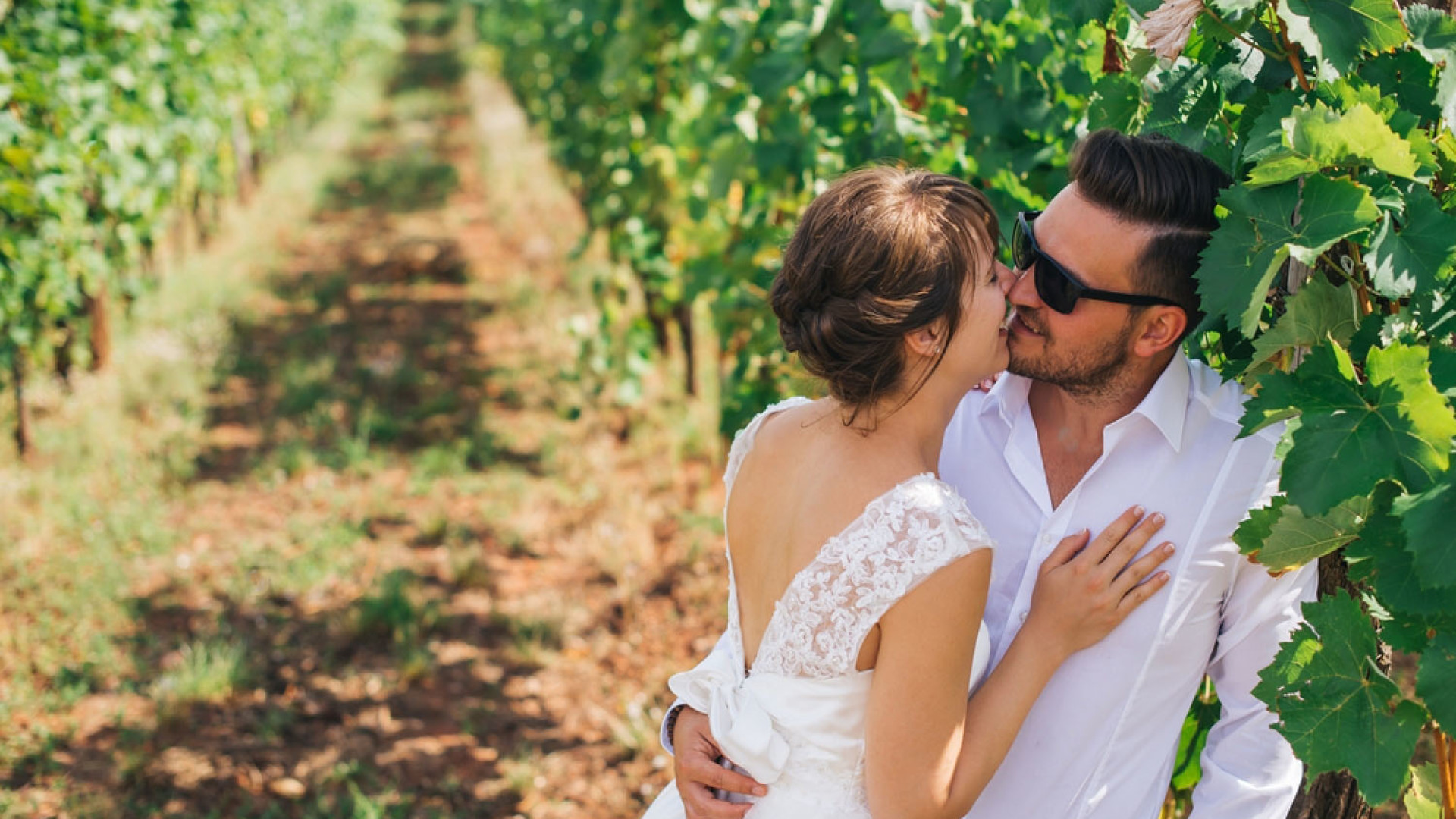 The Hamptons, a collection of coastal communities near Southampton and East Hampton on the South Fork of Long Island, has been a beloved summer destination for New Yorkers for many years. With just a 2-hour drive or train ride from Manhattan, it's a popular escape. Located at the eastern tip of Long Island, Montauk is a renowned beach resort that holds a prestigious reputation as one of the finest fishing spots along the East Coast.
While the region is often associated with wealthy New Yorkers, it also offers some fantastic wedding venues. We have arranged a list of the top 5 finest Hamptons wedding venues on Long Island. Let us help you find the perfect location for your picturesque
1. Topping Rose House
Constructed in 1842 initially, the Topping Rose House now proudly showcases a splendid representation of Greek Revival architecture combined with the braced-frame construction technique. Though reconstructed, the owners have admirably preserved its unique charm and character.
This versatile venue offers both indoor and outdoor spaces throughout the year. The rustic barn comfortably accommodates up to a hundred guests for a delightful cocktail reception. For larger gatherings, the studio, with its floor-to-ceiling windows and picturesque view of the pool, can seat a hundred guests for dinner or host 150 for a cocktail event. The dining experience at Topping Rose House is a delightful farm-to-table affair, featuring locally sourced ingredients in the elegant restaurant.
Furthermore, the grand building itself serves as a stunning backdrop for the wedding ceremony, making for unforgettable photos.
In addition to its exceptional event spaces, Topping Rose House proudly holds the unique distinction of being the only full-service luxury hotel in the Hamptons. With 22 stunning rooms and suites, a spa, and access to pool and health facilities, guests can indulge in a truly luxurious stay. Moreover, the region presents lots of attractions, encompassing renowned beaches, wineries, and a network of biking and hiking trails. There is always something exciting happening.
2. The Roundtree, Amagansett
Nestled amidst picturesque farmlands, The Roundtree, Amagansett is a sophisticated boutique hotel. With a blend of modern sophistication and historical allure, the venue features newly constructed spaces alongside a century-old barn and a charming 250-year-old cottage.
Ideally situated a brief stroll away from the ocean, The Roundtree in Amagansett can comfortably accommodate up to 250 guests. With its year-round availability, couples have the opportunity to experience the beauty of each season. For an enchanting tented wedding, the lush lawn provides a perfect setting. The ceremony takes place under graceful trees, creating stunning photo opportunities. The surrounding country fields add to the venue's sense of privacy and intimacy.
To ensure an exclusive experience, The Roundtree, Amagansett hosts only one celebration per weekend. Guests can enjoy a comfortable stay in one of the 10 charming rooms located in a barn or choose one of the five cottages. Amagansett, a quaint town, offers plenty of attractions, ensuring that friends and family will have an enjoyable time. The venue even provides a wonderful wedding suite, allowing for a relaxed and luxurious preparation on the big day.
3. Wölffer Estate Vineyard
Nestled in the heart of the Hamptons in Sagaponack, New York, Wölffer Estate Vineyard stands as an elegant wedding venue surrounded by 55 acres of picturesque vineyards. Since 1988, the estate has gained a reputation for crafting premium wine and spirits.
With a capacity to accommodate up to 175 guests (minimum of 50 guests), Wölffer Estate Vineyard offers a stunning vineyard setting for the couple's photoshoot. The ceremony can take place at the charming gazebo nestled amidst the vineyards.
Nevertheless, the venue offers an array of other enchanting spaces. The Tuscan-style villa presents a mesmerizing backdrop for wedding photos, and the tasting room perched on a hilltop provides stunning vistas, French doors, and Mexican sconces. If the weather is favorable, guests can gather on the outdoor terrace, or they can enjoy the impressive glass-roof terrace with its stylish interior. Each space can be tailored to suit your preferences, ensuring a customized and memorable wedding experience.
4. The Reform Club
Formerly known as The Inn at Windmill Lane, The Reform Club is nestled in Amagansett and offers several outdoor spaces for your special celebration. The Park is a spacious area accommodating up to 200 guests, while the Sunken Garden is ideal for more intimate events, accommodating up to 125 guests.
For families with children, The Reform Club offers the Common Room, which transforms into a delightful game room. With two TVs, a dartboard, a pool table, and a gourmet kitchen, this space is fully equipped to entertain approximately 20 guests before or after the ceremony. Nestled within The Park, this charming location offers a picturesque and idyllic backdrop, perfect for capturing a myriad of stunning photo opportunities. The enchanting setting is adorned with majestic silver maple trees, lively and vibrant hydrangeas, and enchanting walls of blooming roses. With such natural beauty surrounding you, every moment is destined to be a timeless memory.
The 9,600 square feet of space can be customized to match your preferences. The Sunken Garden, spanning 1,900 square feet, can be tented and exudes charm with its brickwork, walls of hydrangeas, and lavender, creating a special ambiance for the wedding reception. For an extended celebration, The Reform Club presents a range of suites, charming cottages, and houses, providing the perfect opportunity for a memorable weekend-long stay.
5. Bridgehampton Tennis and Surf Club
Bridgehampton Tennis and Surf Bridgehampton Tennis and Surf Club is nestled amidst the pristine natural wonders of the Atlantic Ocean, Sam's Creek, and Mecox Bay. The Bridgehampton Tennis and Surf Club unfolds a picturesque landscape, inviting you to discover a myriad of stunning photo opportunities. With such breathtaking surroundings, every snapshot captured here is destined to be a cherished memento of your unforgettable moments. This private beach club boasts over 1,200 feet of waterfront property, making it a dream destination for couples seeking a seaside wedding. In addition to its breathtaking outdoor setting, the venue also features charming indoor spaces. At the Bridgehampton Tennis and Surf Club, you can host up to 240 guests, creating unforgettable memories as you exchange vows on the enchanting beachfront. After the ceremony, you and your loved ones can move to the picturesque decks to savor the sunset and later gather around a cozy bonfire. Inside the chic clubhouse, a gorgeous ballroom with expansive windows awaits, providing a perfect space for the reception. Delight in the delectable cuisine prepared by the club's talented chefs, with catering options tailored to your preferences, allowing everyone to dance the night away. To ensure a seamless wedding experience, the venue also offers a lovely wedding suite. Moreover, you have the option to book this exquisite location for engagement parties, wedding showers, or any other special event, creating unforgettable moments.
No matter which Hamptons winery you choose, the memories created here will last a lifetime. Embrace the natural beauty of this remarkable region as you embark on the journey of a lifetime with your loved one. Let the stunning landscapes, heartfelt celebrations, and the love of your closest friends and family surround you, making your wedding day an experience that is nothing short of magical